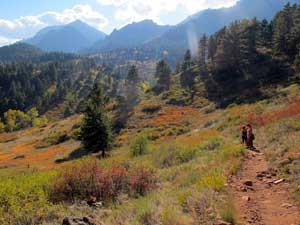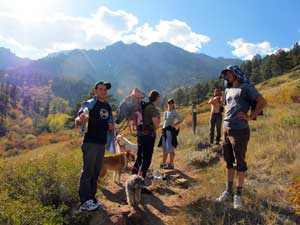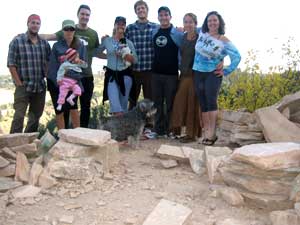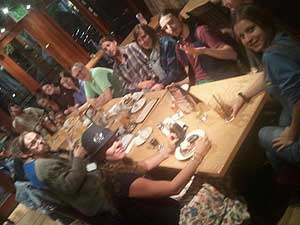 Friday Quarry Hike, Friday Night Out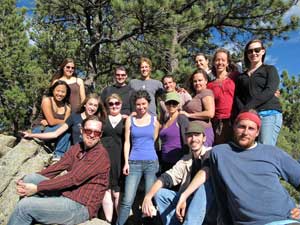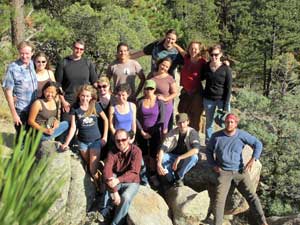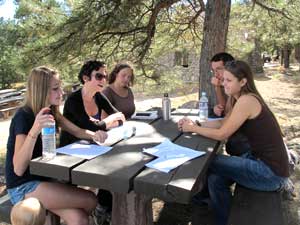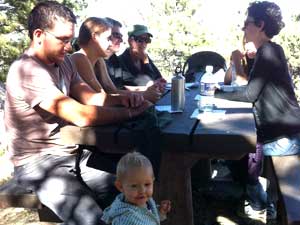 Saturday at Flagstaff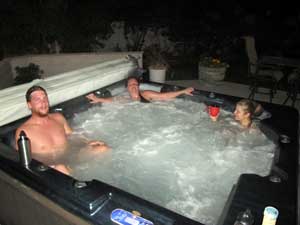 Saturday at Laura's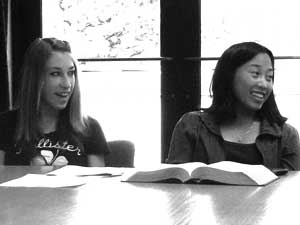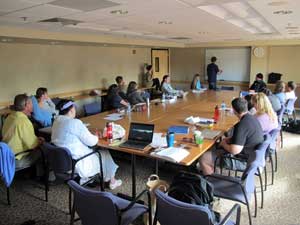 Saturday & Sunday at CU - Discussions & Presentations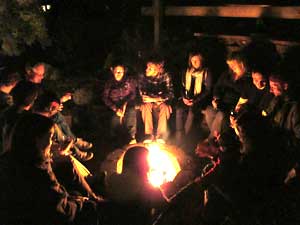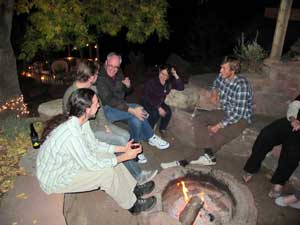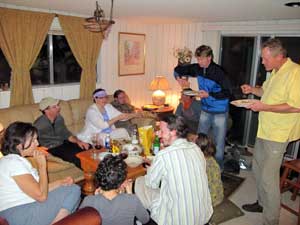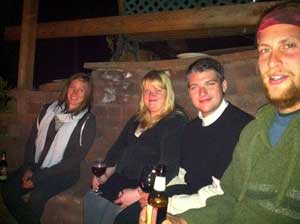 Sunday Potluck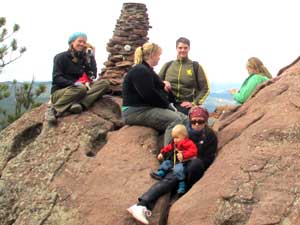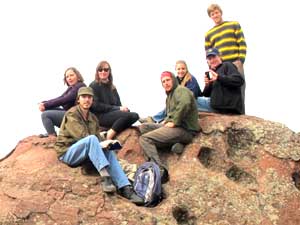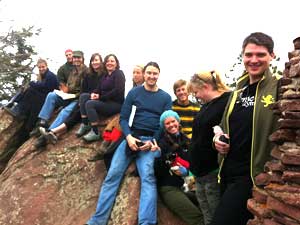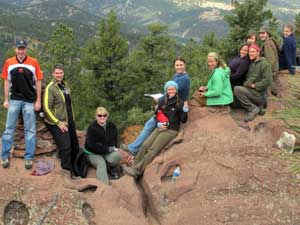 Monday at Green Mountain Summit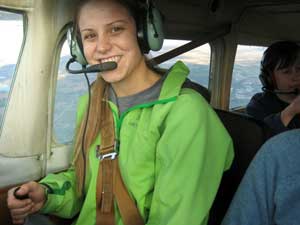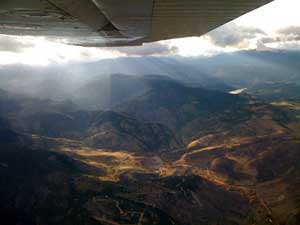 Monday Flight with Kate

I wish to share about the younger-generations mini-conference that recently took place in Boulder Colorado in mid October, 2011. To put this into context and get more information, read the text below this one that was written to inform folks prior to the gathering.
One primary goal of this gathering was the development and strengthening of friendships. Judging by the good cheer, enthusiastic socializing and "benign virus of love" that imbued the event it is clear to me that our time was very well invested in making priceless progress in community building and growing one friendship at a time!
Twelve UB readers in their twenties or thirties travelled from the far corners of North America to participate. All in all seventeen younger-generation Colorado readers (including some teens!), joined us to varying extents (including quite a few who only were able to be with us for a short time). Another dozen or so Boomer-generation readers, parents and friends of participants, greatly enriched the event in the evenings. All who came helped to make the gathering as precious as it was – thank you very much to all who came and contributed!
Participants got to experience some of what the large Colorado readership has to offer. Fortunately many visitors spent closer to a week than a weekend in Boulder some arrived a good while before it began and many stayed several days after the weekend. Some early arrivers got to visit a wonderful study group in Fort Collins. On Friday evening, we went to Chris Halvorson's extraordinary study group/class. Those that were still in town on Tuesday also got to experience another large and dynamic study group at Mo and Jen Siegel's beautiful home. A pretty cool coincidence is that the Friday study group just happened to be reading paper one, and the Tuesday group was reading the book's wonderfully inspiring final paper (The Faith of Jesus).
In addition to our attending his study group on Friday, physicist and Urantia-scholar/teacher Chris Halvorson came to our Saturday and Sunday night gatherings. Chris not only has an impressive knowledge of science, but he has studied and analyzed every advanced concept and just about every sentence in the revelation to a remarkable extent (it recently took him eight Friday study groups to read through and teach the Forward). Many friends eagerly took the opportunity to ask Chris questions into the wee hours on everything from physics to non-breathers. Audio and video recordings of Chris' classes can be found at http://www.perfectinghorizons.org/
The weather was exquisite and we spent part of each day hiking and/or picnicking in the Boulder area's amazing mountainous beauty. The hikes to Mallory Cave (Thurs) and Wood's Quarry (Fri) were awesome and on Saturday we spent the afternoon picnicking and having discussion groups at Flagstaff with incredible vistas in every direction. On Monday we hiked to the summit of Green Mountain. The view from the top was the perfect backdrop for the idyllic time we spent praying and reading about spiritual living. On Monday afternoon a group of visitors really got a bird's-eye-view of the mountains when they went flying in a four seat aircraft with one of the gathering's hosts who works as a flight instructor.
We were also fortunate to gather for discussions and presentations in ideal locations such as a meeting room at the CU student union and the beautiful spacious home of Laura Hay. Many thanks to Don Green for hooking us up with an awesome room at the university, and to Laura Hay for having us over to her house in spite of the fact that she was out of town! I also want to thank Terry Loconsolo for having a couple of the conference-goers stay at her place.
We spent several hours on Saturday and Sunday discussing topics having to do with our thoughts and goals on the potentials of fostering united, magnetic and "5th epochal cultural" community. We also read sections of the book on community as well as spiritual living. These themes are too vast to thoroughly explore during one short weekend but we took some steps in this journey. If you want to get a more detailed idea of what we discussed, see the discussion question examples below. Several members of the YaYA committee attended and did a presentation about their new committee dedicated to serving the younger generations, and the discussions on community continued at the youth and young adult ("YaYA") invitational in LA (Nov. 4-6).
Habits which favor religious growth embrace cultivated sensitivity to divine values, recognition of religious living in others, reflective meditation on cosmic meanings, worshipful problem solving, sharing one's spiritual life with one's fellows, avoidance of selfishness, refusal to presume on divine mercy, living as in the presence of God. (…) The evidence of true spiritual development consists in the exhibition of a human personality motivated by love, activated by unselfish ministry, and dominated by the wholehearted worship of the perfection ideals of divinity. (p. 1095)
The old cults were too egocentric; the new must be the outgrowth of applied love. The new cult must, like the old, foster sentiment, satisfy emotion, and promote loyalty; but it must do more: It must facilitate spiritual progress, enhance cosmic meanings, augment moral values, encourage social development, and stimulate a high type of personal religious living (…) No cult can endure and contribute to the progress of social civilization and individual spiritual attainment unless it is based on the biologic, sociologic, and religious significance of the home. (p. 966)
Upcoming (potential) gatherings: Since a dozen or so younger-generation readers that could not come to the gathering described above told me they plan to visit Boulder before Anna, Selma and I go back to Sweden in early 2012, we are planning a second gathering to take place sometime in January (Click here). Another event I have been thinking about organizing for a while is another Rainbow Gathering Urantia Camp. I'm also excited about organizing a conference with a group of younger-generation readers in Europe to take place this summer – probably in Berlin!
…I'm also feeling that I would like to plan a gathering in Boulder not too far down the road where those of us that are able and so desirous plan to gather and rather than dispersing only to meet sporadically as we have so many times in the past, remain "gathered" moving forward with the advantages of geographical proximity to each other. ;-)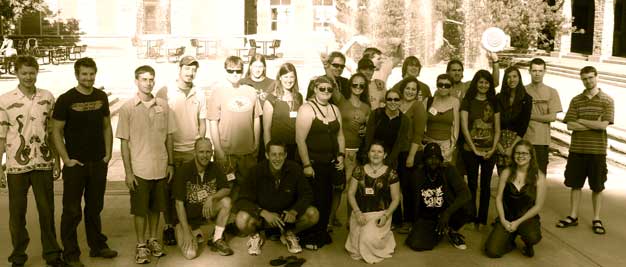 Younger-Generation Urantia Gathering October 14-17, 2011 Boulder CO
Background and news:
I began focusing on seeking out young readers and working to galvanize and bring them together about fifteen years ago, after I went to my first conferences and experienced how there were almost no young readers to be found. As the years passed dozens of immensely rewarding young reader events were coordinated and a humble and not-formally-organized "UByouth" family/network developed. Some of our most thrilling adventures were "tours" that involved groups of young readers traveling all over N. America and sometimes Europe and other parts of the world for months at a time. Among other joyous activities that fostered community and bonding during these tours, we attended international and regional conferences, had young reader gatherings and retreats, and engaged in creative outreach projects such as hosting Urantia camps at rainbow gatherings and placing books in libraries and hostels around Europe.
Today, like many of my generation, I am no longer able to devote as much time to such efforts due to parental and job-related responsibilities. Nevertheless, we feel it is vital that we continue fostering community and activity among Gen X readers, in addition to youth, even though we no longer are particularly young. For one thing, some younger generation readers are less inclined to become and stay active with a group of people their parent's age, and having dozens of precious friends including many of one's generation who are devoted to the UB's marvelous teachings enriches and inspires immeasurably. Additionally, it is clear that there are still extremely few post-boomer UB enthusiasts active in N. America (my informed estimation is that under 10% are under 55). I believe doing all we can to cultivate dynamic and unified younger generations of readers and preparing for the inevitable "taking of the torch" in the coming decades is imperative.
The YaYAs: Before getting into the Boulder gathering details, I want to spread the good news about how a dynamic team devoted to fostering Urantia youth and young adults recently formed and has begun doing service in leaps and bounds. This is the Youth and Young Adult (YaYA) committee of the Fellowship. To the best of my knowledge this is the first time a reader organization has ever started a formal youth-focused endeavor like this. Several YaYA committee members will likely be joining the Boulder pow-wow Oct 14-17 and I am excited to have the opportunity to be part of their upcoming invitational just two weeks after the Boulder gathering - Nov 4-6 in Los Angeles! Find out more at urantianow.com/conferences/invitationals/!
Boulder is outstanding in beauty, progressive culture etc., but most important for us is its vibrant and comparatively large reader community. That is why Boulder was a favorite stop on the young reader tours and recently some of us aged "ubyouths" organized a younger-reader-oriented conference in 2009 in Boulder – which was amazing! My family and I are spending this fall in Boulder while I am on paternity leave since we want to be part of a center of 5th epochal culture. I think the sparse younger generations would benefit greatly from a center/centers of Urantia activity and culture – I certainly dream of being part of one - and we hope to eventually move to Boulder for the longer term to pursue these dreams. After so many years of traveling thousands of miles to try to get groups together who all live so far apart, I really look forward to one day living closer to many of you and building up a dynamic local next-generation community together.
The Details: This gathering will be rather intimate and informal (but not unfocused). Around twenty to thirty younger generation readers (mostly in their 20s and 30s) are expected to participate. The program will be well-rounded and designed to make most meaningful use of our precious time. As always, an underlying focus of this type of gathering is establishing, maintaining and strengthening friendships (I was going to write "lifelong" friendships but …we don't expect them to be THAT SHORT!) In addition to sharing about our lives and spiritual strivings, the program will include outdoors activities, interacting with Boulder readers, UB study, and more. We will devote some time to the question of dissemination and outreach. Themes that we will explore will center around Jesusonian living as well as community. What are our goals? What is the best path toward the highest good for the future of our community? What might 5th epochal culture look like and how can we cultivate it?
Costs, food and lodging: There is no registration or event fee. Participants will basically merely need to bring enough money to feed themselves – sometimes we will eat in town and sometimes we will pitch-in on home-cooked meals. We expect the majority of visitors to stay at the house that will be used as a base for the gathering or in other reader-homes in the area if needed. This option is wallet-friendly but could mean sleeping-bag-and-pad-on-floor-style. Inexpensive hostel and motel rooms are available for those who prefer.
Let us know as far in advance as possible if and when you are coming and we will work out the details! We hope to be seeing you very soon! Your brother, Mike MacIsaac
(The photo at the top is of younger generation readers at the 2009 Boulder conference, the picture on this page is from when the young reader tour stopped through Boulder in 2003)
Spiritual growth is mutually stimulated by intimate association with other religionists. Love supplies the soil for religious growth… (1094.2)
You cannot truly love your fellows by a mere act of the will. Love is only born of thoroughgoing understanding of your neighbor's motives and sentiments. It is not so important to love all men today as it is that each day you learn to love one more human being. If each day or each week you achieve an understanding of one more of your fellows, and if this is the limit of your ability, then you are certainly socializing and truly spiritualizing your personality. Love is infectious, and when human devotion is intelligent and wise, love is more catching than hate. But only genuine and unselfish love is truly contagious. If each mortal could only become a focus of dynamic affection, this benign virus of love would soon pervade the sentimental emotion-stream of humanity to such an extent that all civilization would be encompassed by love, and that would be the realization of the brotherhood of man. (1098.3)
Discussion topics on the theme of community and our community potentials
Try to have the most rewarding and constructive discussion don't get bogged down in these questions if you prefer or feel lead to discuss other themes. I know that there are far too many questions here to satisfactorily discuss in one afternoon too but you might continue to think about them in the future. Community is such a broad theme and we could easily discuss it for weeks – these discussions are some of the bricks in the mansions of our future.
Discuss your community hopes and dreams for our families or future families?
How can we best strive for the highest "5th epochal culture"? What should we strive for and how? Looking at previous generations what pitfalls should we avoid and what should we learn/perpetuate from them?
How can we overcome difficulties of being so geologically spread out? Have you / could you considered moving to Boulder :) or other place to build up a center of Urantia activity and culture?
Do we live like we really believe in the realities that the revelation teaches? What might/does that look/feel like?
Any specific ideas or suggestions on projects or ways to focus our energies etc?
What can we do to foster a community that people who have not yet discovered the UB are drawn to?
Should we be adding more "dimensions" to our movement to compliment the study group and conference traditions? (what kinds?)
Do you have any suggestions or ideas concerning projects or adventures that we might undertake in the coming years?
Should we think about how we can strengthen the fabric of our "net" that keeps us in contact? Should we formalize our connections or organizing/ form some kind of groups that stay closely in contact in spite of geographic distances or something like that? (group "buddy systems" etc?)
Discussion topics on sharing our spiritual lives, community growth, potential "outreach" ideas and so forth.
What are your thoughts on reaching out to and stimulate connections / building community with and activity among those that are in isolation or "on the periphery" of the movement, the "outermost layers of the onion"?
To what extent are we or aught we to be "in the closet" concerning our Urantia-involvement?
What are your thoughts about "evangelism" or aggressive outreach concerning the UB or the basic truths found in the UB?
Ideas on more "organic" or subtle "natural" ways of community growth and stimulating interest?
What "has worked" or has not worked for you / for us?
Any ideas for creative outreach that you think would be particularly fun or enjoyable?